The global health sensors market size was estimated at $20.5 billion in 2016. It is expected to expand at a CAGR of 17% over the forecast period. Increasing demand for
home healthcare
settings and rising geriatric population are among the key trends stoking market growth. Rising incidence of chronic disorders such as diabetes and obesity is expected to boost the market growth during the forecast period.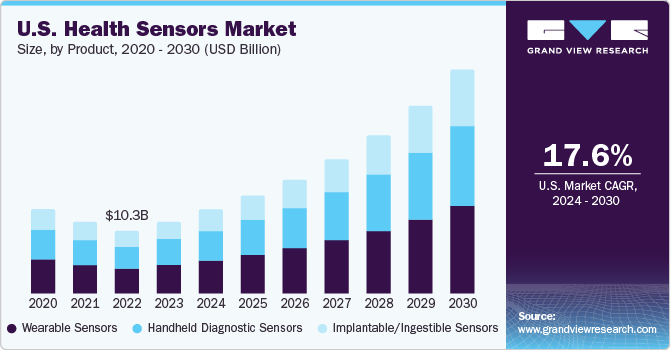 According to the WHO, in 2014, more than 1.9 billion adults were overweight, out of which, almost 600 million were obese. Between 1980 and 2014, prevalence of obesity has more than doubled. This can be attributed to the changing lifestyle of people.
Chronic illness and at risk monitoring dominated application segment, owing to increasing demand driven by burden of chronic diseases. Moreover, the sensor therapeutics and in-hospital clinical monitoring segment is expected to witness lucrative growth during the forecast period.
The North America health sensors market held more than 36% revenue share in 2016, owing to rise in geriatric population and number of people suffering from chronic disorders such as obesity. According to the World Obesity Federation, in 2014, there were about 18 million severely obese adults in U.S. This number is estimated to reach 25 million by 2025. Moreover, technological advancements in North America have led to development of more efficient health sensors.
In 2016, the
wearable sensors
segment dominated this market in terms of revenue. Key factors attributing to this expansion includes advanced features of wearables like their ability to monitor vital parameters such as blood pressure and heart rate. Moreover, these devices are highly accurate, durable, and reliable.
Demand for wearable sensor devices is anticipated to increase due to high prevalence of cardiovascular diseases, diabetes, and obesity. Data obtained from these products can be analyzed to predict risk of a heart attack, based on the recorded long-term vitals. Additionally, these devices send health updates and recommend exercise regimes to prevent occurrence of an acute episode.
The implantable/ingestible segment is anticipated to grow at a CAGR of 17.5% over the forecast period. Many companies are collaborating with others to initiate Research and Development (R&D) activities. For instance, respiratory health management company Propeller Health collaborated with Novartis in Feb 2017, to place a sensor on Novartis' Breezhaler inhaler. This device will record, provide reports on connected apps regarding the amount of drug inhaled, and compute medication adherence and compliance. Collaboration like this, are anticipated to propel growth of the ingestible/implantable segment over the forecast period.
Health sensors are classified on the basis of application into wellness monitoring, chronic illness and at risk-monitoring, patient admission triage, logistical tracking, in hospital clinical monitoring, sensor therapeutics, and post-acute care monitoring. The chronic illness and at-risk monitoring segment held the largest market share in 2016 and is expected to maintain dominance over the forecast period. This is attributed to rising prevalence of diseases and demand for point-of-care testing.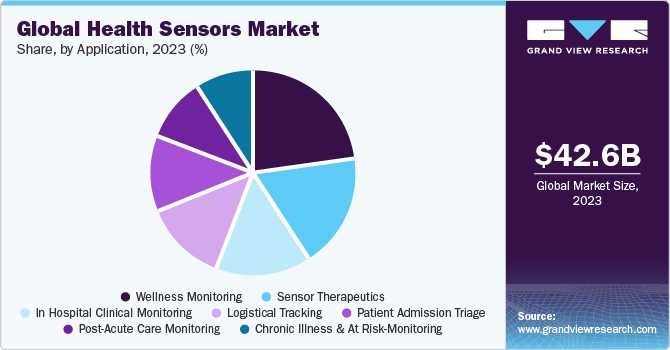 Wellness monitoring is anticipated to grow at a CAGR of over 27% from 2017 to 2025. Wellness monitoring involves digital monitoring and tracking healthcare indicators using smart devices such as Fitbit products and Apple Watch.Fitbit plans on applying for the U.S. Food and Drug Administration (FDA) approval for its Ionic Smartwatch. Following the approval, this product is expected to be used for initial screening of atrial fibrillation. Several cancer research institutes are likely to utilize various data points obtained from Fitbit devices for patient monitoring.Due to increasing applications and innovations in wellness monitoring devices, their demand is expected to rise over the forecast period.
Based on region, the market is divided into North America, Europe, Asia Pacific, Latin America, and Middle East & Africa. In 2016, North America dominated global market in terms of revenue. This is attributed to presence of structured and streamlined approval processes. Additionally, per capita healthcare expenditure of U.S. was found to be USD 7,845 in 2008 and is estimated to be USD 11,193 in 2018, according to the World Bank. This 29.91% rise in per capita healthcare expenditure is attributed to be one of the highest impact rending factors affecting market expansion. Thus, demand for health sensors is anticipated to remain high in North America in near future.

Asia Pacific is estimated to expand at a CAGR of 18.7% over the forecast period. Globalization of emerging economies such as India and China is anticipated to increase their potential for adopting healthcare sensor devices. Factors contributing to market growth include high penetration of internet and insurance and awareness about importance of diagnosis and prevention of chronic disorders. In addition, rising per capita healthcare expenditure, growing private hospital chains and healthcare solution manufacturers, and outsourcing of various healthcare process are driving regional market.

The market is oligopolistic in nature with key players launching unique and innovative products. It also has a lucrative growth rate with key players investing in R&D to strengthen their product portfolios by launching novel products and technologically upgrading their existing products. Focus of players to manufacture patent products is expected to fuel market competition over the forecast period.

Furthermore, efforts by dominant players to engage in acquisitions and strategic alliances to tap into lucrative markets in emerging nations is also expected to maintain industry rivalry at a high level.
Some of the key companies present in the industry are Analog Devices, Inc.; Avago Technologies Ltd.; Danaher Corporation; GE Healthcare; Honeywell International, Inc.; Medtronic Plc.; Smiths Medical, Inc.; Koninklijke Philips; Proteus Digital Health; Sensirion AG; Stryker Corporation; Abbott Laboratories; Roche; Hologic; and Varian Medical System.