The global 3D printing market was assessed to be USD $7.01 billion in 2017.
It is expected to expand at a CAGR exceeding 16.5% from 2018 to 2025.
Aggressive research and development in three-dimensional printing and growing demand for prototyping from healthcare, automotive, and aerospace and defense among other industry verticals are expected to drive market growth.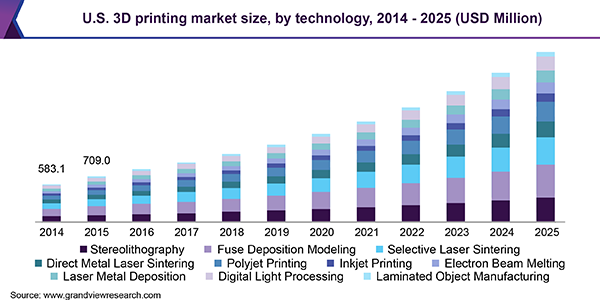 3D printing, also called additive manufacturing, involves a layer-by-layer addition of material to form an object referring to a three-dimensional file with the help of a software and a 3-dimensional printer. A relevant 3D printing technology is then selected from the available set of technologies to implement the process. The last step involves deployment of this process across different industry verticals as per requirement.
The deployment of 3D printing includes providing services, such as consultation, solutions, installation, and customer support. It also involves handling issues related to copyrights, licensing, and patenting. 3D printing benefits manufacturers in terms of prototyping, designing, and modeling structures and end products. It also reduces time to market. As a result, production expenses have reduced considerably and the manufacturers are able to offer better products at reasonable prices.
However, the prevailing misconceptions with respect to the process of prototyping among small and medium-scale manufacturers may hinder the adoption of this technology to an extent. Moreover, lack of technical knowledge and a looming standard process controls are expected to restrain the growth of the market over the forecast period.
Printer Type Insights
Based on the printer types, the market has been segmented into industrial and desktop 3D printers. The industrial printers segment held the largest market share of 78.96% in 2017. It is anticipated to continue dominating the market over the forecast period. This growth can be attributed to the extensive adoption in automotive, electronics, aerospace and defense, and healthcare, among other industries. Prototyping, designing, and tooling are some of the most common industrial applications of 3D printers across these industry verticals.
On the other hand, adoption of desktop 3D printers was initially limited to hobbyists and small enterprises. However, increasing usage in household and domestic application is anticipated to bode well for demand. Moreover, the education sector; which comprises schools, educational institutes, and universities, is also deploying desktop printers for technical training and research purposes.
Small businesses are adopting desktop printers and diversifying their business operations to offer 3D printing and other related services. For instance, the concept of FabShops is gaining popularity in the U.S. These fab shops offer on-demand 3D printing of components as per the designs and requirements of the customers. Hence, the demand for desktop printers is expected to rise significantly over the forecast period.
Technology Insights
At present, the FDM segment is holding the largest market share of over 19% owing to the extensive adoption of technology across various 3DP processes. Along with the ease of operations, technological advancements and aggressive research and development activities are opening opportunities for several other efficient and reliable technologies.
Stereolithography is anticipated to account for a considerable revenue share, as it is one of the oldest and conventional printing technologies. Polyjet, Direct Metal Laser Sintering (DMLS), and Selective Laser Sintering (SLS) segments are also expected to witness a rise in adoption, as they are used in specialized additive manufacturing processes. Growing demand from aerospace and defense, healthcare, and automotive verticals would open opportunities for the adoption of these technologies in near future.
Application Insights
Prototyping accounted for the largest market share in 2017 and is anticipated to maintain its dominance over the forecast period. Extensive adoption from various industry verticals is anticipated to propel the growth. Automotive and aerospace and defense industries use prototyping to design and develop components and complex systems precisely. Prototyping also allows manufacturers to achieve a higher accuracy and to develop reliable end products.
The functional parts segment is expected to expand at a significant CAGR of 16.5% from 2018 to 2025. Increasing demand for designing and building functional parts is anticipated to bode well for the growth of this segment. Functional parts include smaller joints and other metallic hardware connecting components. Their accuracy and precise sizing are of paramount importance while developing machinery and systems.
Vertical Insights
Based on verticals, the 3D printing market has been segmented into desktop and industrial 3D printing. Desktop 3DP comprises educational purpose, fashion and jewelry, objects, dental, food, and others. The Industrial 3DP comprises automotive, aerospace and defense, healthcare, consumer electronics, industrial, power and energy, and others. Consumer electronics, healthcare, and automotive verticals are anticipated to contribute significantly to the growth over the forecast period owing to the active adoption from various production processes.
Dental vertical is expected to continue leading in terms of demand share over the forecast period. Industrial 3DP helps develop artificial tissues and muscles, which replicate the natural human tissues and can be used in replacement surgeries. These capabilities are expected to drive the adoption in healthcare vertical. On the other hand, food and fashion and jewelry verticals are anticipated to contribute significantly to the segment growth. The adoption in imitation jewelry, miniatures, art and craft, and clothing and apparels is anticipated to gain traction in near future.
Component Insights
Based on the component, the market for 3D printing has been segmented into hardware, software, and services. The hardware component segment is further divided into printer type, technology, applications, and vertical. The software segment, on the other hand, is further bifurcated into printer type and software type. Whereas, the services segment is segregated by the printer type.
The hardware segment accounted for the largest market share in 2017. The segment is anticipated continue leading over the forecast period. Software segment is expected to register the highest CAGR over the next 7 years.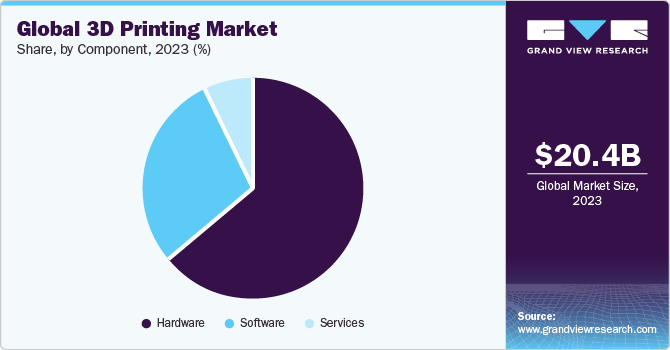 Regional Insights
North America emerged as the largest regional segment with a market share of more than 37% in 2017 owing to an extensive adoption of additive manufacturing. U.S. and Canada have been some of the prominent and early adopters of 3D printing. The regional market is offering lucrative opportunities for AM in different applications. Europe is the second largest regional segment in terms of its geographical footprint. It is home to several additive manufacturing industry players, which hold strong technical expertise in additive manufacturing processes.
However, Asia Pacific region is projected to register the highest CAGR over the forecast period attributed to the developments across the regional manufacturing industries. The region is also emerging as a manufacturing hub for the automotive and healthcare industries. A stronghold on the production of consumer electronics coupled with a rapid urbanization is also contributing to the rising regional demand.
Image via Shutterstock