Departures
, the luxury brand published by Meredith Corporation exclusively for American Express Platinum Card members, in partnership with Audi of America, is unveiling an exclusive print advertisement in the November/December issue, featuring a user experience that emulates a premium feature of the all-new Audi A8.
The interactive in-book experience provides the reader with a key fob that animates OLED taillights on a virtual Audi A8 when the page is opened for the first time. It can then be activated either by closing and reopening the pages or with the key fob. Locking and unlocking the all-new 2019 vehicle becomes a unique event as the lights animate to greet the driver.
The insert represents the authentic lighting technology being used by Audi for its A8 vehicle.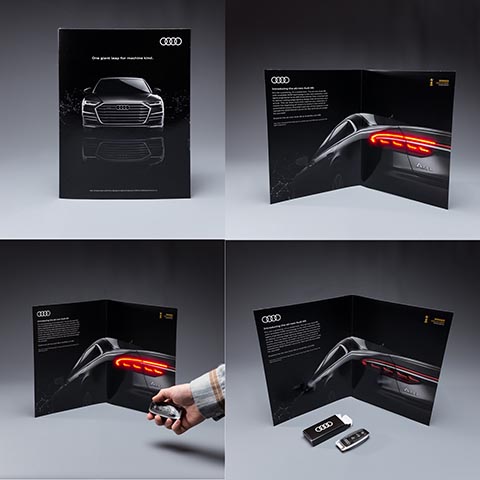 "…[W]e knew we would have to create something truly innovative, show-stopping, and never been done before," said Giulio Capua, VP/publisher of Departures.
The Audi A8 creative will be distributed to 25,000 targeted Departures readers.
The technology behind the print ad was created by Structural Graphics.
Structural Graphics developed a record-breaking number of LEDs to mimic the Audi A8's lighting design animation. The company also produced the remote control faux key fob that
Departures
readers will use to trigger the display lights – a one-of-a-kind experience that has never been done before.
The all-new 2019 A8 is the first production execution of the all-new premium Audi design language derived from Design Chief Mark Lichte's Prologue concept.