The global wearable sensors market size was valued at $149.3 million in 2016. Sensors are a vital aspect in wearable devices used by consumers owing to increased focus on tracking real-time motion sensing activities. This is likely to propel industry growth over the forecast period.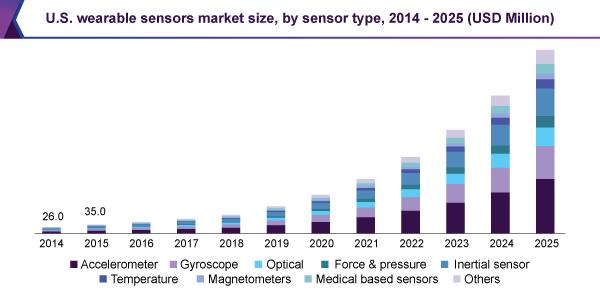 The market is gaining prominence due to rising number of health and fitness monitoring applications globally. Wearable device manufacturers have integrated contextual information and data points to determine motion sensing activities. Further, its analysis provides users with results that can be used to define health and fitness goals.
Technological development is expected to augment market growth over the forecast period. Sensor miniaturization and manufacturing have gained popularity with rising demand for compact wearables. Furthermore, its motion-sensing capabilities that track and record movements is a key factor driving market growth. Increased spending on remote monitoring activities such as heart rate, blood oxygen level, fall detection, and calorie count is another potential factor driving the market.
U.S. is one of the most significant markets owing to wide presence of OEMs in the country. Wearable devices are gaining prominence owing to early adoption of sensing technology, miniaturization of sensors, and consumer awareness for a healthier lifestyle. Moreover, rise in healthcare expenditure is estimated to drive demand for remote monitoring devices for athletes and patients.

The accelerometer segment was valued at $32.3 million in 2016 and is anticipated to exhibit the highest CAGR of 43.6% over the forecast period. Segment growth is accredited to increasing popularity of wearable devices in the market.
Motion sensing with accelerometer sensors enhance the output and gives higher accuracy in tracking and monitoring user activities. Use of accelerometers in wrist-worn devices delivers fitness and wellness-related series and thus serves as a key source of market traction. Moreover, its ability to differentiate between when the user is taking a step or shaking just the wrist is a potential factor to segment growth.
The optical segment is anticipated to expand at a healthy CAGR of 38.0% over the forecast period. The application of optical sensors has been associated as an integral part in the growth of wearable devices. They are incorporated in smart wearables play a vital role in giving precise electrocardiogram (EKG) readings with utmost of accuracy. It enables highly sensitive measurement of health parameters and surrounding environment, which is expected to boost its demand over the forecast period.

The fitness band segment accounted for the largest share in the wearable sensors market in 2016. The segment is expected to expand at a significant CAGR of 39.5% over the forecast period. This growth is attributed to rising popularity of health and fitness devices among users. Moreover, new players in the market are offering advanced technologies in fitness bands at relatively lower prices than smart watches. This is anticipated to be a key factor driving segment growth.
Launch of new models and an expanding user base can be attributed to the capabilities of a fitness band in providing dynamic analysis of user activities such as step tracking, heart rate variation, calories count, and sleep quality analysis. Design perspectives such as simplistic model and miniaturization will also benefit the segment over the coming years.

Sharp growth in demand for fitness bands will continue in 2018 as vendors and sensor OEMs continue to add value proposition in their devices. Technological advancements in sensors is anticipated to play a vital role. It will enable higher accuracy in providing qualitative analysis with sensor fusion software, which is further expected to boost its application in fitness bands.

The consumer segment is anticipated to exhibit a high CAGR of 41.4% over the forecast period. Demand for sensor-fused devices are gaining traction as awareness regarding remote monitoring of wellness and fitness is gaining popularity among users. Demand is driven by a wide variety of factors such as availability of numerous wearables, technological advancement in sensors, and vendors' ability to provide differentiated products.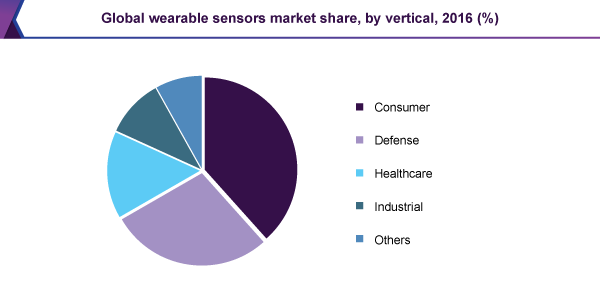 The adoption of wearables among consumers will continue to dominate the market over the forecast period. Increase in demand for fitness, wellness, and lifestyle tracking devices is a key factor driving shipments of wearables in the recent past. Consumer preferences for wrist-worn, VR headsets, and smart clothing are positively impacting the market, and vendors are thus looking to innovate and provide optimum solutions to users.

The segment is also expected to witness high growth with rising spending power among consumers, especially on electronics. Larger companies appear to be developing wearables focused on combining fashion as well as utility. Constant innovation will also benefit the growth of the consumer segment.

Numerous established enterprises and several new players within China and Japan have been investing in sensor manufacturing and advancement, which is owing to growing popularity of fitness and health tracking devices among users. Miniaturization of sensors and development of sensing technologies in wearables from OEMs in Asia Pacific is anticipated to drive market growth.

The APAC market was valued at $47.1 million in 2016 and is anticipated to register the highest CAGR over the forecast period. OEMs are making a substantial contribution to the development of IMUs, MEMS technology, and others, which can provide accuracy while keeping the price relatively lower for products developed through them.

The North America region is anticipated to continue its dominance over the forecast period. Rapid adoption of digital technology in U.S. has allowed the region to account for a larger market share. Moreover, the healthcare sector in the region has been thriving, which is further anticipated to boost the adoption of wearable sensor-enabled products over the forecast period.