The
global wearable medical device market size
was valued at USD $10.3 billion in 2018 and is expected to witness a CAGR of 26.1% over the forecast period. Growth of industries such as home healthcare and remote patient monitoring devices is anticipated to drive the growth. In addition, a rising focus on fitness and healthy living are also expected to drive the market.
High prevalence of lifestyle-associated disorders, such as diabetes and hypertension, due to a sedentary lifestyle, requires continuous monitoring of several physiological parameters, for instance, blood sugar levels and blood pressure. This allows the amalgamation of healthcare data with portable devices, which can be forwarded to physicians for real-time access to data and minimal errors. Moreover, the rising mortality rate due to non-communicable diseases is the major concern demanding more focus on personalized monitoring and care. This is ultimately anticipated to further boost product demand.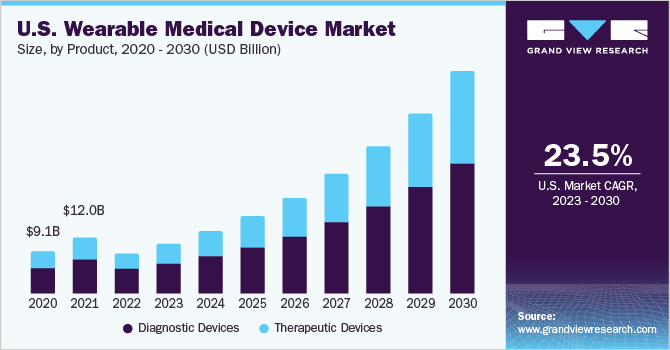 Rising prevalence of chronic diseases along with increasing mortality rates are major concerns among people as well as government organizations. Thus, healthcare providers offer personalized care including continuous and remote patient monitoring. Also, these can be worn for 24 hours without affecting the routine life. Considering various advantages, their demand is projected to witness a steady rise over the forecast period.
Growing awareness regarding fitness is high-impact rendering market driver. Increasing obesity and awareness about physical fitness is encouraging people to work out and adopt other fitness-related activities. Wearables such as smart bands and smartwatches help monitor fitness parameters including calories burned, footstep count, and walking distance. Moreover, manufacturers offer guidance from expert dieticians or nutritionists. Hence, this business model is generating hefty demand for these products.
On the basis of the product, the market is classified into diagnostics and therapeutics. Therapeutic segment is anticipated to register the fastest CAGR throughout the forecast period owing to the increasing influx of these devices. Moreover, a strong pipeline of therapeutic devices such as intelligent asthma management, wearable pain reliever, and insulin management devices is anticipated to impel growth. The therapeutic segment includes pain management, insulin monitoring, rehabilitation, and respiratory therapy device. Insulin monitoring is anticipated to remain dominant over the forecast period owing to the rising prevalence of diabetes.
Neuromonitoring device was the largest diagnostic segment in 2018, attributed to the increasing prevalence of neurological disorders. In addition, increasing awareness regarding the ability of neurological wearables to assess cognitive capabilities of individuals continuously during everyday activities, is also expected to drive the growth.
Based on site, the global wearable medical device market is segregated into headband, handheld, shoe sensors, strap/clip/bracelet, and others. The strap/clip/bracelet segment led the market in 2018 and is likely to remain dominant throughout the forecast period. Products like smart watches allow monitoring several parameters such as physical activity, respiratory rate, and pulse rate and they are available with Bluetooth and cloud connectivity. This factor is anticipated to propel segment growth over the forecast period.
Advancements in wrist-worn products, for instance, the Healthpatch by Vital Connect in March 2014, for monitoring multiple parameters such as heart tare, skin temperature, and activities like steps count is anticipated to drive the growth. Also, major players like Samsung and Apple have introduced compatible mobile apps, which enables data recording and digital display. Such apps are attracting people towards routine health monitoring, thereby impelling market growth.
On the basis of application, the market is bifurcated into sports and fitness, remote patient monitoring, and home healthcare. Home healthcare led in 2018 due to the increasing geriatric population triggering prevalence of target diseases and growing need to curb healthcare expenditure as an economically viable initiative.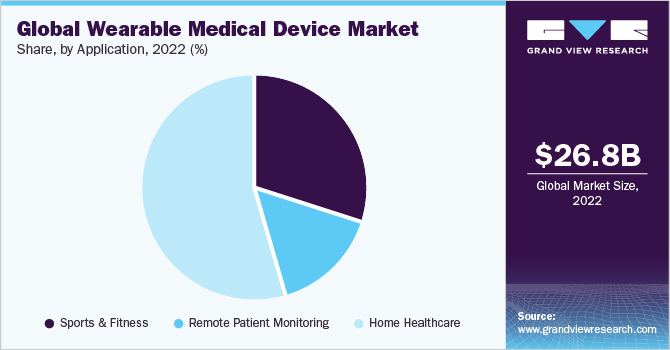 Remote patient monitoring is anticipated to witness the fastest CAGR over the forecast period. Globally rising geriatric population and incidence of chronic conditions are expected to be the high impact rendering drivers for the growth of remote patient monitoring devices market over the forecast period.
North America was the largest segment in 2018 owing to a high prevalence of cardiovascular disorders, diabetes, and cancer. In addition, a rise in chronic diseases that need routine monitoring and the presence of sophisticated healthcare infrastructure are further likely to drive the regional growth over the forecast period.
Asia Pacific is expected to witness exponential growth over the forecast period. Major factors boosting the growth are favorable government initiatives for the use of such medical devices, increasing geriatric population base, and high healthcare expenditure.